Back to page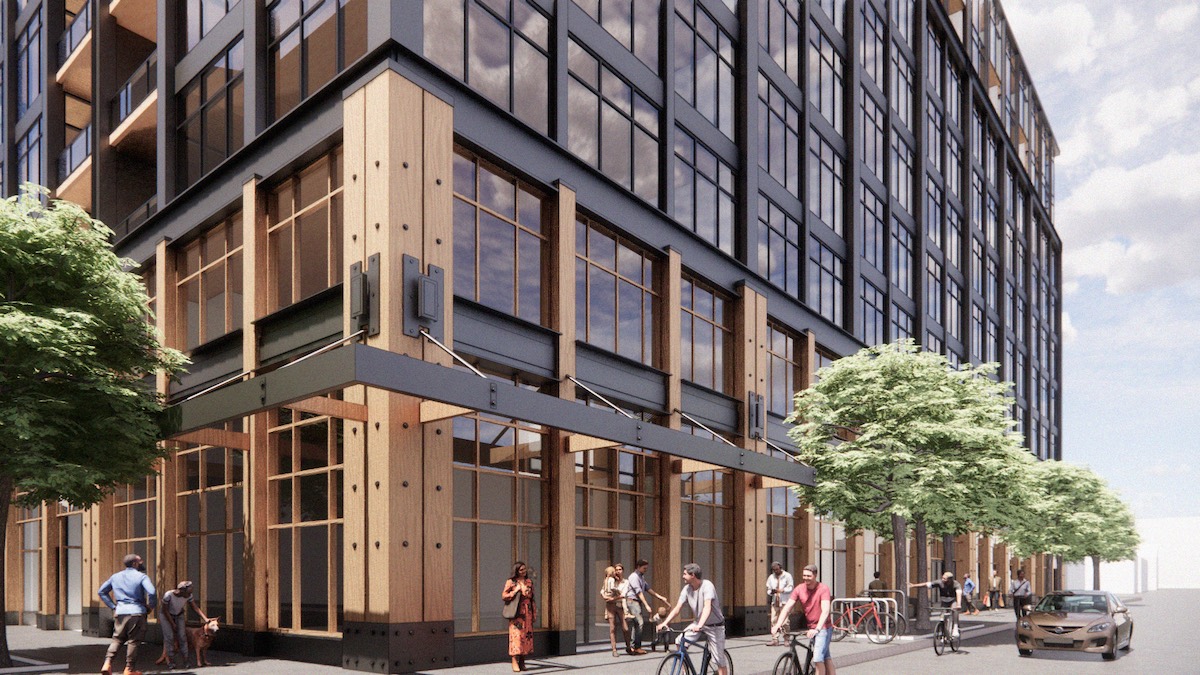 8/4/2022
Sterling Bay To Develop Chicago's Tallest Timber-Made Building Since Before The Great Chicago Fire 
Developer Announces Plans for 2100 N Southport Avenue, a New Mass-Timber Multifamily Building in Lincoln Park
CHICAGO – (August 4, 2022) – Sterling Bay has announced plans to build a nine-story mass timber multifamily development at 2100 N Southport Avenue, marking an exciting moment in Chicago's history as the tallest timber-made building to be constructed since before the Great Chicago Fire of 1871. The structure, designed by Hartshorne Plunkard Architecture (HPA), will feature 130 residential units with private access to on-site luxury amenities, as well as exposed mass timber details throughout and thoughtfully curated ground floor retail.
"Over 150 years after the Great Chicago Fire, and with the help of incredible technologies, Sterling Bay is reintroducing Chicago to large-scale timber construction, setting a new standard for future-forward development in our city," said Andy Gloor, CEO of Sterling Bay. "Mass timber buildings are safe, sustainable, and beautiful, and we are excited to lead Chicago's real estate community in working with this innovative building material at 2100 N Southport."
The Great Chicago Fire of 1871 was a pivotal turning point for Chicago as it incited a rebirth that paved the way for world-class innovation and architecture to find a home in the Midwest, completely transforming the evolution of construction and accelerating the global rise of steel and concrete. While timber was seen as an unsafe and unstable building material after the fire, recent advancements in adhesives that allow for the creation of mass-timber, a fire-resistant laminated timber alternative, have inspired architects, builders, and sustainability advocates around the world to revisit timber construction for its natural beauty, durability, and reduced carbon emissions.
"Mass-timber buildings are the perfect combination of sustainability and aesthetics," said Ray Hartshorne of Hartshorne Plunkard Architecture. "Timber is renewable, global, and can be easily harvested and sustainably managed to assure regrowth and replenishment. It also boasts a low carbon footprint as it sequesters excess carbon removed from the atmosphere throughout its entire existence. Construction timelines are faster and, most importantly, mass timber performs well in the event of a fire. HPA is ready to utilize its significant experience in mass-timber design to help Sterling Bay deliver this historic new Chicago development."
HPA is a market leader in mass-timber architectural design and has executed several ground-breaking mass timber projects around the country including INTRO in Cleveland, OH; Nashville Warehouse Co. in Nashville, TN; T3 West in Midtown, Atlanta, GA; and 1036 W. Fulton Market in Chicago, IL.
The construction of 2100 N Southport is estimated to produce significantly fewer greenhouse gas emissions than a similar building produced with traditional concrete and steel. And, in addition to its environmental benefits, experts say that incorporating natural elements like wood into buildings can provide biophilic benefits as well, such as improving the overall wellbeing of those who live and work in timber-made spaces.
Chicago's 2nd Ward Alderman Brian Hopkins states, "Chicago's rich history of architectural innovation is one of our city's most notable contributions to the global community, and it's very exciting to know that this groundbreaking new mass-timber development will be constructed right here in Lincoln Park. I look forward to working with Sterling Bay and Hartshorne Plunkard Architecture – two hometown firms – as they deliver this historic project to our great city."
Construction on 2100 N Southport is estimated to begin in early 2023. Architectural renderings of the building are available by request. For more information on multifamily properties within Sterling Bay's portfolio, visit www.sterlingbay.com.
ABOUT STERLING BAY
Sterling Bay is an experience-driven real estate company that boldly transform spaces, industries, and communities across the country, sparking growth and opportunity at every turn. Known for creating innovative, connected, and collaborative spaces for world-class companies such as Google, McDonald's, WPP, Pinterest, Dyson and Tyson Foods, Sterling Bay is consistently recognized for award-winning projects that enhance communities and strengthen a company's culture and brand. Sterling Bay's team of more than 185 professionals is responsible for a portfolio exceeding $5 billion, and a development pipeline of more than $20 billion. For more information, visit www.sterlingbay.com.
ABOUT HARTSHORNE PLUNKARD ARCHITECTURE (HPA)
Hartshorne Plunkard Architecture (HPA) is an architecture, planning and interior design firm that practices nationally from its studio in Chicago's Near North Side. Over its 35-year history, HPA has created mixed-use residential, commercial and hospitality projects across the country that share a common sensibility toward placemaking. Visit www.hparchitecture.com for more information. 
MEDIA CONTACT
Julie Goudie, Sterling Bay
312.202.3471