Back to page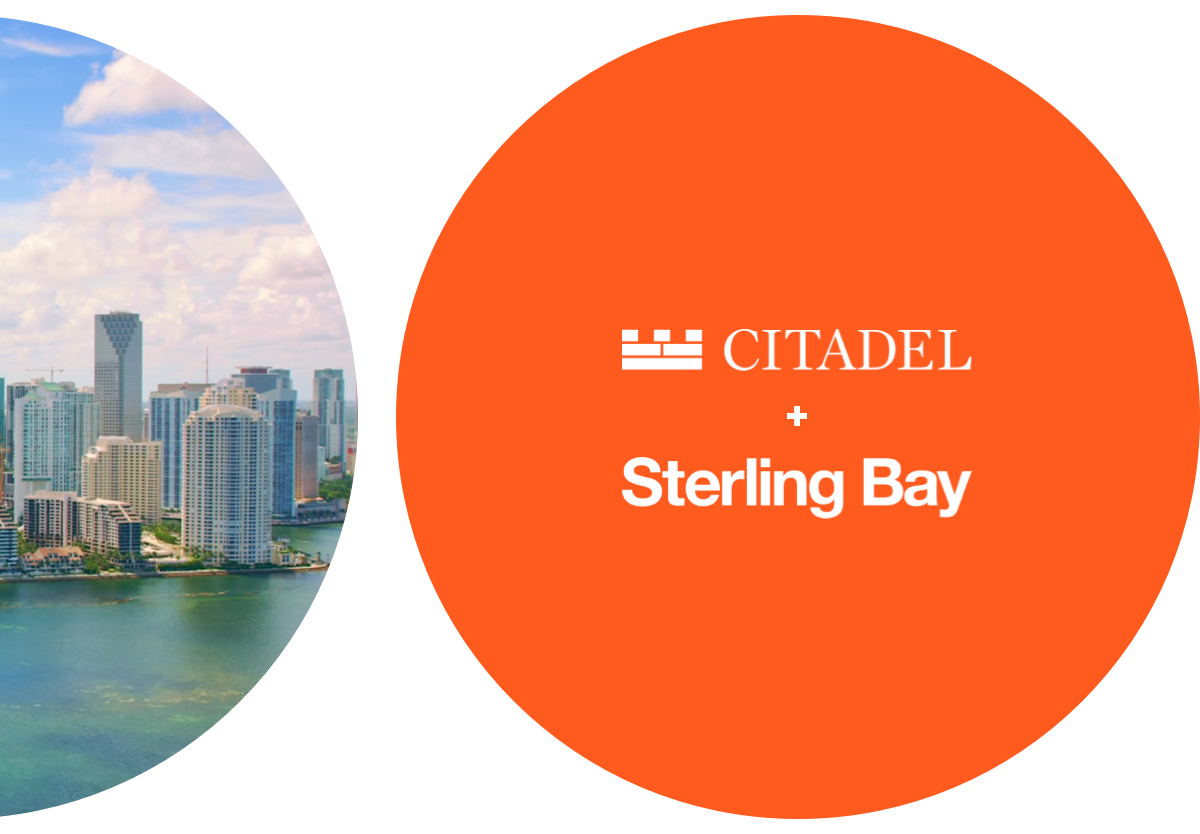 6/23/2022
Sterling Bay Selected as Developer of Citadel and Citadel Securities' New Global Headquarters
National Real Estate Development Firm Partners with Global Finance Leader to Develop New Miami Office Tower
(CHICAGO, IL & MIAMI, FL) – June 23, 2022 – Sterling Bay, a leading real estate investment and development firm with a growing portfolio of over $20B in assets nationwide, has been selected by Citadel and Citadel Securities to develop the companies' new global headquarters in Miami, Florida.
"For over thirty years, Citadel and Citadel Securities have set the standard in delivering exceptional results for stakeholders, and as their partner in developing their new global headquarters in Miami, Sterling Bay's goal is to do the same," said Andy Gloor, CEO of Sterling Bay. "Together, our teams share a vision to develop an unrivaled workplace of the future, attracting the brightest talent and propelling Citadel and Citadel Securities to even greater success in the decades ahead. Sterling Bay looks forward to delivering on this vision and raising the bar for creative office space nationwide."
With a presence in over 15 major U.S. markets, including Miami, Sterling Bay is rapidly expanding its footprint outside of its hometown, Chicago, and redefining the modern creative office experience. Largely credited with the transformation of Chicago's Fulton Market District into the global tech hub it is today, Sterling Bay is most widely known for developing award-winning urban headquarters for tenants such as Google, McDonald's, Dyson and WPP, as well as for master-planning one of Chicago's largest mixed-use real estate projects, Lincoln Yards.
"Our selection as the developer of Citadel and Citadel Securities' new headquarters confirms not only their confidence in Sterling Bay, but also our place as a premier developer of world-class spaces," said Keating Crown, Managing Principal at Sterling Bay. "This project marks a monumental opportunity for our firm to continue expanding its portfolio and national reach, while proudly representing Chicago and its pioneering spirit in major markets like Miami."
For continued updates on the progress of this project, follow Sterling Bay on Twitter, Instagram, Facebook and Vimeo.
ABOUT STERLING BAY
Sterling Bay is an experience-driven real estate company that boldly transform spaces, industries, and communities across the country, sparking growth and opportunity at every turn. Known for creating innovative, connected, and collaborative spaces for world-class companies such as Google, McDonald's, WPP, Pinterest, Dyson and Tyson Foods, Sterling Bay is consistently recognized for award-winning projects that enhance communities and strengthen a company's culture and brand. Sterling Bay's team of more than 185 professionals is responsible for a portfolio exceeding $5 billion, and a development pipeline of more than $20 billion. For more information, visit www.sterlingbay.com.
MEDIA CONTACT
Julie Goudie
Director of Communications
jgoudie@sterlingbay.com
630.664.6055